About Planet Duct
---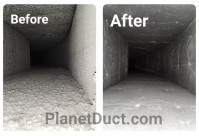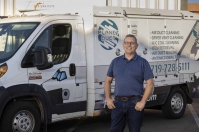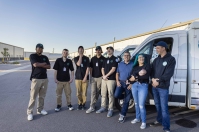 Planet Duct is Colorado Springs's best air duct cleaning company. Planet duct is certified by the National Air Duct Cleaners Association. The owner, Brandon James Kirk (AKA: Captain) is a NADCA Certified Ventilation Inspector.
Brandon is also a NADCA Certified Air Systems Cleaning Specialist (ASCS) and Ventilation Maintenance Technician. All technicians are NADCA certified and have the education that discount coupon cleaners don't have.
Planet Duct cleans residential and commercial air ducts and dryer vents.
Based out of Colorado Springs, we serve clients from Pueblo all the way to Highlands Ranch. We use powerful vacuum systems to get your ducts cleaned the right way. We have Powerful vacuum trucks and our HyperVac portable units that we can take into places the truck will not reach. Our air duct cleaning technicians will use pneumatic agitation tools and rotary brushes to get the non-adhered particulate and other contaminants out of your ventilation system.
We will clean all the returns, trunk lines, supply ducts, the return drop, the blower wheel, and the blower compartment.
Carpet cleaners will claim to clean your ducts, but they completely ignore your trunk lines. Their vacuums are weak, their tools are cheap, and their training is substandard at best. Even their strongest carpet cleaning truck mount will pull at most 650-800 (cfm) cubic feet of air per minute.
Our Hypervac portable alone will pull 5000 cfm and our vacuum trucks will pull 13,000 cfm. So all air duct cleaning is not the same, and you do get what you pay for. If you have asthma, allergies, COPD, or autoimmune issues, you do not want a cheap amateur cleaning your ducts.
Planet Duct also offers AC coil cleaning, bathroom fan vent cleaning, and anti-odor and anti-microbial duct treatments. One of our most requested services is dryer vent cleaning. Dryer vent cleaning will make your clothes dry faster, increase the life of your dryer, lower your energy bill and help prevent a dryer vent fire. Clogged dryer vents are the number one cause of home fires in the United States.
Planet Duct is locally owned, and we take pride in our service. We are not a franchise. We are fully insured, and we invest in the education of our staff. If you want it done right, call Planet Duct.